Black & White Prints
All my black & white images are shot with 35mm film. The print you will receive will be an actual photograph, not a digital reproduction.
Resin Coated Prints
Made by hand on a high quality photographic paper in the "E" or Lustre surface for RC custom hand-prints, with a standard 1/8 inch border for extra protection from atmospheric pollutants. All prints are signed by the photographer upon completion.
Image size price per print
13.5 x 20 * - - - - - - - - - - - - - - - - $250.00
* Full frame image on 16 x 20 paper
Exhibition prints, made on quality double fiber paper with selenium toning for image permanence, are available on request.
Shipping and Handling
* Inside the United States *
Shipping and handling* is included in the price of the print. Prints are sent flat and, before being prepared for shipment, they are cornered on foam core board and shrink-wrapped for extra protection, allowing you to view your print easily and safely until you are able to frame. RC prints not in stock will take 6 to 8 weeks to arrive to your location. RC prints in stock will take 5 days.
* includes insurance, priority mail and delivery confirmation.
* Outside the United States *
Please contact me and I will provide you with a S&H price based on the destination of your print.
Payment
I accept payment by check or money order. Orders will be processed upon clearance of any of the above. Please e-mail me through the link below if you have any questions or wish to order an image.

Hawaiian Koa Frames
If you have an interest in framing your print in Hawaiian koa, I recommend Kauai Frame, owned and run by Frank Schuierer. His work is quality, he ships to the mainland, and he's good people. Check his site out thru the link below.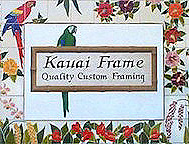 return